Robotic Palletizer Manufacturer, Exporter and Suppliers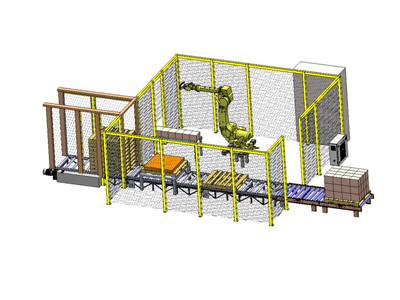 RP Series
Product stacking into pallets is automated by robotic palletizing devices. Additionally, they can be programmed to depalletize, which is a crucial component of many production lines. Robotic palletizers are able to address various challenges that their previous, traditional counterparts could not.
Robotic palletizers frequently use an infeed conveyor, just like their conventional cousins. They don't, however, arrange things on the conveyor by bumping or sliding them. Instead, a robot moves the products by twisting them as they pass along a conveyor or by lifting them and placing them straight on a pallet.
Rapid packing, stacking, and unstacking can be accomplished by a robot with a powerful computer function.
A robot with a powerful computing function can perform high-precision operations and achieve rapid packing, stacking and unstacking.
Robotic palletizing machines for packing, stacking and unstacking can be flexibly laid out in a production line. Our robotic palletizing machine can palletize two or more lines at the same time, which is an ideal option for palletizing at the end of the production line.
Using top quality products such as servo motor, programmable controllers, and variable frequency speed controllers, we can ensure the system hardware is reliable with a long service life.
High-quality hardware is combined with specialized control software designed by experts, which achieves a high automation system. Protection for equipment and operators can be provided by perfect safety interlocking mechanisms.
The level of factory automation can be improved with advanced technology, stable and high quality products and perfect services.
A robotic palletizer is a type of palletizer that employs a robotic arm to pick, orient, and place individual products and arrange them into a single stack of load. They are the next generation of palletizers, and they will supersede conventional palletizers. Their advantages, such as lower capital cost, versatility, and multi-tasking abilities, make them the preferred choice in select applications. However, their lack of speed, product dimension tolerance, and robustness limits them from completely replacing conventional palletizers.
Like any other type of palletizers, robotic palletizers take advantage of the concept of unit load. Unit load refers to the assembly of materials combined for efficient handling. It is faster and more economical to move a large, single unit instead of several small individual items. Finished goods are not designed and built to be handled and shipped separately. These are usually placed in boxes, cases, trays, and crates that are then combined into a single unit supported by pallets or roll cages. The former ones are referred to as secondary unit loads, while the latter ones are tertiary unit loads.
Features
Fully Automated & Completely customized to suit your requirement
Handling Corrugated Cartons / Cases, Plastic Bags, metal / aluminium cartons
Special customized End of Arm Tooling (EOAT) to suit the end requirement
Independent Robot Cell incorporated with CAT/PLd Safety certified (Certification is optional)
Store multiple recipes for quick changeover. Add, delete, edit product / pallets / patterns easily.
Various Conveying Solutions, Sensors, Encoders, Cylinders, Barcode Scanners / Vision Systems, EOATs for Good Accuracy in positioning & palletizing*
Automation by PLC, HMI, Sensor, Control Panel from reputed brands
Customization for Pay load, Speed & Layout
Maximum uptime ( > 96% )
Reduced Operating, Maintenance costs
Cut off labour related issues – availability, escalating costs, performance, efficiency etc.
Consistency in performance with high throughput
Gentle transfer without damages
Supporting pallets of varying sizes across the world, 800x800; 1000x1000, 1000x1200, 1200x1200mm
Options
Pallet Dispenser
Stainless Steel Version
Flame Proof Version