Robotic Case Erector Manufacturer, Exporter and Suppliers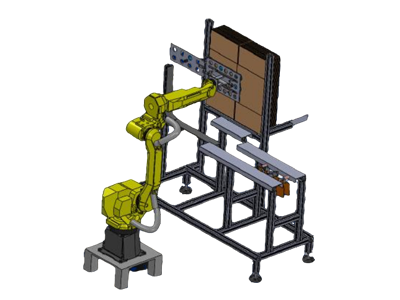 Robotic case erectors are easier to integrate into existing end-of-line packaging equipment because they take up less room than traditional box erecting devices. Ergonomic problems brought on by repetitive human work are eliminated when the case erector procedure is automated. As a result, throughput is optimised, productivity increases, labour costs decrease, and safety improves.
Case size recipes for robotic case erectors can be stored in the HMI, then retrieved and chosen when a case size change is necessary. Automation of changeovers speeds up transitions, enabling operators to complete quick production runs, mix-and-match packaging, and unique packaging combinations with ease. Using intelligent sensors, drives, and programmable logic controllers eliminates manual line changeovers, resulting in less downtime and a greater, more reliable throughput.
Features
Cases with different dimensions can be erected simultaneously>
Horizontal magazine for easy blank loading>
Bottom Flaps Closing and Sealing with tape>
Low Tape & Case Blank Alarm>
Random case erection possibility>
Very compact footprint>
Easy Installation>
Cases with various dimensions can be erected parallelly
Horizontal magazine for easy carton loading
Carton magazine capacity about 100 cartons
Bottom Flaps Closing and Sealing with tape/glue/both
Low Tape Alarm
Low Case Alarm
Random case erection possibility
Small footprint
Easy Installation