Gantry Palletizer Manufacturer, Exporter and Suppliers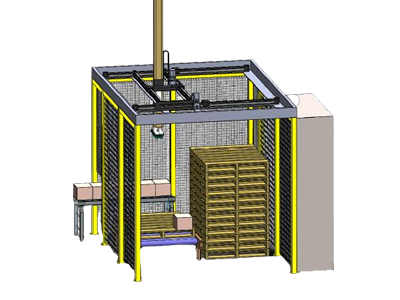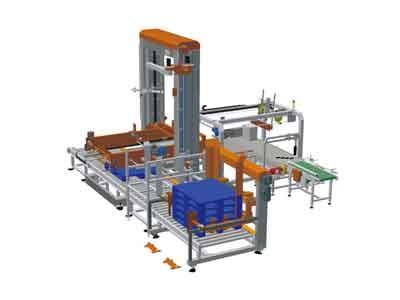 Features
Robust structural tube frame with welding
Four axes: X, Y, Z, and
Timing pulley and belt in a sturdy framework that allows for accurate movement and location
Capped and sealed tubes offer a tidy appearance.
Smooth and silent functioning is made possible by urethane wheels.
High-speed and high-capacity options are available thanks to servo gear motor driving.
Positive drive product with stop location in the feed
Operation using electropneumatics
With servo drives, movement is precise.
Cases, bags, pails, and drums from one or more packing lines can be automatically palletized with a gantry palletizer. Prior to storage, it is intended to place product containers on pallets or slip sheets. Consistent product orientation is achieved on the pallet.
Space-constrained modern manufacturing environments need the use of gantry palletizers.
Benefits include: small footprint, low cost, high specification and fast payback.
Smart software and factory automation maximizes production while reducing costly downtime and repurposes labour.
The gantry palletizing system uses side case-feeding, which allows the equipment to take up less space, and a conveying system into palletizer is simplified. This saves up to 50% of the costs when compared to a robot pallet. It features a more advanced structure, lighter and more stable movement, and lower power consumption with the use of an international advanced layer-by-layer palletizing design concept.
Using PLC program control, frequency control, carton delivery, sorting, stacking, unloading pallets, a full pallet load output can be automated. With high security, powerful diagnostic functions, multiple safety design and instant display of faults, personal safety and easy maintenance are guaranteed.
It is convenient and simple to adjust the stacking method on the human-machine interface and there is no need to replace stacking parts. Carton or shrink pack can be palletized.
Benifits
Multiple orientations and pallet patterns
Product can be picked in multiples to achieve required palletization speeds
Variety of grippers available
Modular design for flexibility and scalability