Pallet Dispenser Manufacturer, Exporter and Suppliers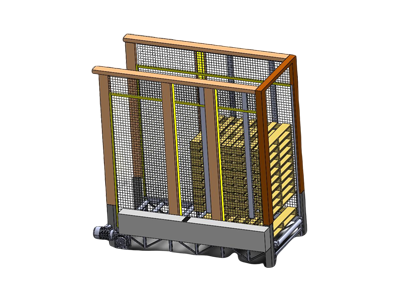 Pallet dispensers are a crucial piece of machinery for a productive and economical supply chain. Modern warehouses and distribution facilities can benefit from a variety of pallet dispenser types to meet their various requirements. For instance, if your business uses pallets of various sizes, an adjustable magazine pallet dispenser may be the finest option to meet your precise requirements.
It can be difficult to know what to look for in a pallet dispensing machine and what kind of pallet handling equipment will work best for your company. Consider where in your facility you'll use your pallet dispenser and what other industrial equipment you intend to use before moving on. Various pallet dispensers each have a unique
The two types of pouch packaging machines are premade pouch packing machines and form fill seal machines. The form fill seal machine is used to manufacture pouches from a roll of film, whereas the premade pouch packaging machine is used to package things that are already in a pouch.
| | |
| --- | --- |
| Model | PALLET DISPENSER |
| Production speed | 3 to 4 Pallets / min |
| Power supply | 440V, 3Ph, 50Hz |
| Pallet size (mm) | L = 1200, W = 1200, H = 130 |
| Loading height | 300mm |
| Air compressing | 6 bar |
| Air consumption | 450 NL / min |
| Machine dimension (mm) | L2800 x W1500 x H2900 |
| Machine weight | 250Kg |
Features
High and low level palletizers
Small footprint palletizers
Multi line (shuttle & rotary) palletizers
Pail palletizers
Bulk palletizers
Pallet conveyor systems
Full load stackers
Line integration