Drum Palletizer Manufacturer, Exporter and Suppliers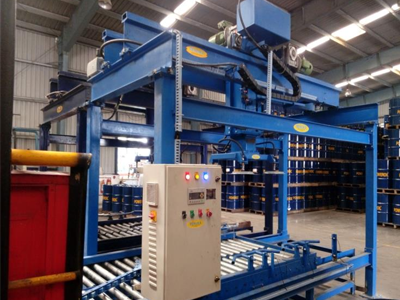 A company that makes drum palletizers. Palletizing systems are optimised with this technology. The handling method, specifically at filling factories, resolves the common issues that all businesses encounter when they must load plastic or metal drums onto pallets. The palletizing system offers a practical and affordable solution. The system that palletizes drums is entirely automated. It is possible to shift different numbers of plastic and metal drums from one pallet to another without causing any damage, which improves operational procedures.
The handling method addresses the common issues that arise while loading synthetic or metal drums onto pallets, particularly in the chemical sector or other filling facilities.
Cost-effective, fully automated palletizing of synthetic and metal drums
Careful handling of drums thanks to gentle transfer
Suitable for a variety of pallet types
Suitable for a variety of arrangement patterns
More competitively priced than a robotic palletizer
Manual handling of drums is no longer required
Drums are picked up by the palletizing system. Conveyors move a pallet from the pallet magazine to the corresponding position in the drum palletizer. Sliding plates extend over the pallet, allowing the drums to be moved without any risk of danger or damage. The sliding plates are pulled out from under the drums once the synthetic or metal drums have been pushed onto them. Drums are hold in position during this procedure. The drums have reached their final position on the pallet and loaded pallet can be removed from the system. The next palletizing sequence can begin.
Move in of the drums
Move in of the pallet
The sliding plates are extended
Pushing of the drums
Drums are moved in again
Drums are pushed again
Retraction of the sliding plates
Removal of the pallets
This palletizer is especially designed to pick up drums on pallet automatically, which includes drum feed-in conveyor, auto palletizing grimp hand, lifting unit, release unit, pallet dispenser, and full pallet discharge conveyor.
DCP Series
Designed for Metal and Synthetic Drums
Palletize in world's most cost-effective system
Fully Automated
Tailored to End Users' requirements
Special vacuum mechanism to prevent any distortion of metal drum
Custom build gripper mechanism for synthetic drums
Gentle transfer without damages
Made for pallets of varying sizes across the world
Cost effective compared to Robotic Palletizer
Safe, Robust and ergonomic design
Various Sensors, Encoders, Grippers for Good Accuracy in positioning & palletizing
Automation by PLC, HMI, Sensor, Control Panel from reputed brands
Customization for Pay load, Speed & Layout
NO more Manual Handling of Heavy Drums
Specifications
| | |
| --- | --- |
| Drum material | Metal or Synthetic |
| Weight | 350Kg / drum (max) |
| Payload | 1400Kg / 700Kg (350Kg * 4 or 350Kg * 2) |
| Matrix | 2 x 2 or 2 x 1 |
| Pallet | 1000mm x 1000mm or 1200mm x 1200mm |
| Speed | 100 drums (2 x 2 matrix) |
| Power | 8KVA - 415VAC, 3ph, 50Hz |
Process
Drums are allowed to enter into infeed conveyor. The automated system forms a matrix as per the palletizing requirement. A pick n place system picks of the formed matrix and places on the pallet in waiting. The transfer will be very smooth and motion is tracked and controlled by various motion control systems.
Options
Pallet Dispenser
Stainless Steel Version
Flame Proof Version
USP
Designed, Developed & made in India
Fully Automated
Successful track record of multiple deployments since 2015